Canon MAXIFY GX4070 High-Performance Wireless Ink Tank Printer for Small Businesses
High-Performance Wireless Ink Tank Printer for Small Businesses
The MAXIFY GX4070 makes your business look its best. Offering remarkable productivity for small work teams, this 4-in-1 inkjet printer provides ultra-affordable colour printing and a wide range of connectivity options.
Print, Scan, Copy, Fax

Print Speed (A4, ISO): up to 18 / 13 ipm (mono/colour)

Wi-Fi, LAN, AirPrint, Mopria, Direct Wireless

Recommended Monthly Print Volume: 300 – 2,500 pages
Features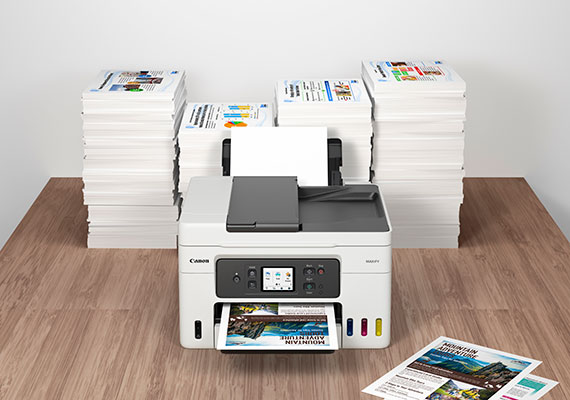 Ultra High Page Yield Ink Bottles
With ultra-high page yield ink bottles that print up to 9,000* pages (mono) and 21,000* pages (colour), perfect for demanding office printing without worrying about ink costs!
​​​​​​​*Economy mode.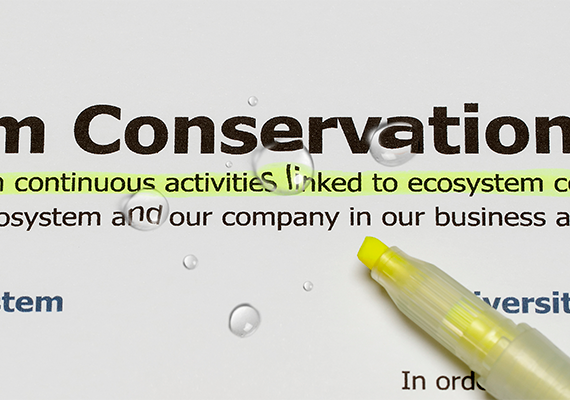 Highlighter & Water Resistant Prints
The quick-drying pigment ink ensures high-quality document printouts that resist fading or moisture and accidental exposure to water.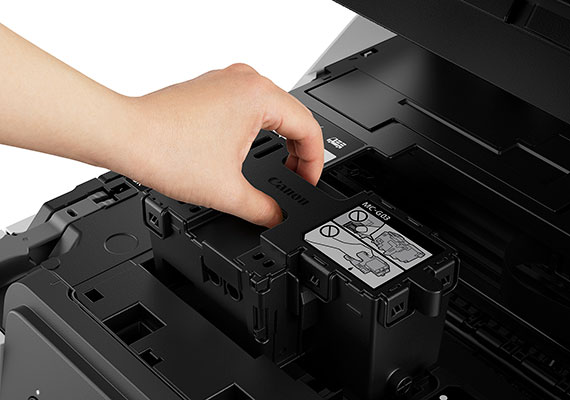 Easy Maintenance
The easy-to-replace maintenance cartridge makes maintenance fuss-free and extends printer lifespan even when printing in high volumes.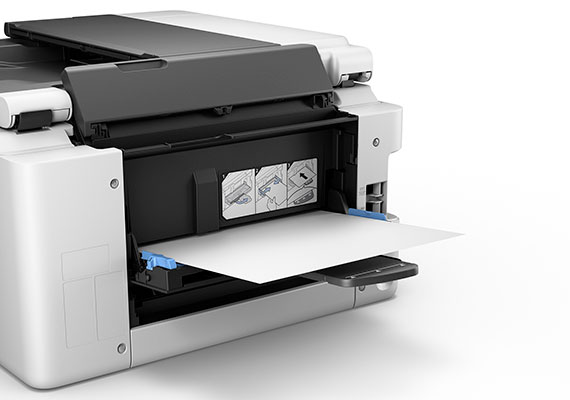 Media Versatility
The additional straight paper path allows for single-sheet feeding of thick paper materials such as paperboard, in various sizes and thicknesses up to 0.7 mm.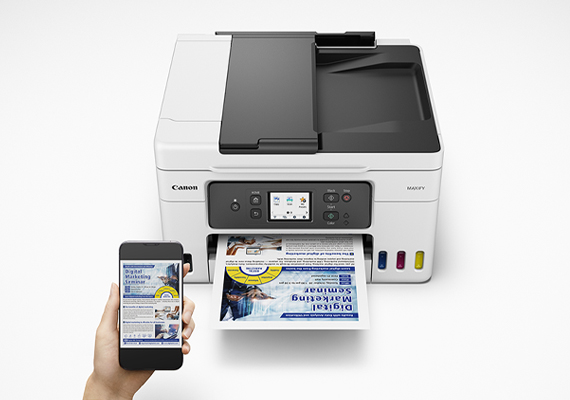 Full Network Compatibility
Wireless and Wired LAN connectivity enhances installation flexibility. Print wirelessly and connect to smart devices directly.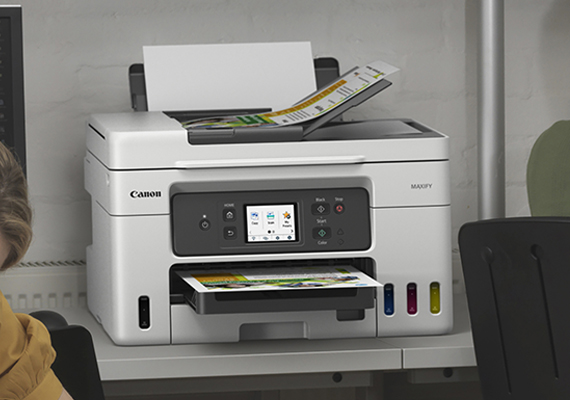 Compact, Space Saving Footprint
The printer's compact footprint allows it to fit into tight spaceswith ease.
Print Head / Ink
Number of Nozzles
Total 4,352 nozzles
Ink Bottles (Type / Colours)
GI-76 (All Pigment Inks / Black, Cyan, Magenta, Yellow)
Maintenance Cartridge
MC-G03
Maximum Printing Resolution
600 (horizontal) x 1,200 (vertical) dpi
Print Speed* (Approx.)

Based on ISO/IEC 24734
Click here for summary report
Click here for Document Print and Copy Speed Measurement Conditions

Document (ESAT / Simplex)
18 / 13 ipm (mono/colour)
Documet (ESAT / Duplex)
10 / 8 ipm (mono/colour)
Document (FPOT Ready / Simplex)
8 / 9 sec (mono/colour)
Printable Width
Up to 206 mm
Print Margin
Bordered Printing
Envelope (COM10 / DL / C5 / Monarch):
Top/Bottom margin: 12.7 mm,
Left/Right margin: 5.6 mm4 x 6", 5 x 7", 7 x 10", 8 x 10":
Top margin: 3 mm, Bottom margin: 5 mm
Left/Right margin: 3.4 mm

Square (127 x 127 mm):
Top/Bottom/Left/Right margin: 6 mm

Others:
Top/Bottom/Left/Right margin: 5 mm

Bordered Auto 2-Sided Printing
Top/Bottom/Left/Right margin: 5 mm
Supported Media
Rear Tray
Plain Paper (64 - 105 g/m²)
High Resolution Paper (HR-101N)
Photo Paper Plus Glossy II (PP-201, PP-208)
Photo Paper Plus Semi-Gloss (SG-201)
Glossy Photo Paper "Everyday Use" (GP-508)
Photo Paper Pro Luster (LU-101)
Matte Photo Paper (MP-101)
Double-Sided Matte Paper (MP-101D)
Envelope
Photo Stickers (PS-208, PS-808)
Cassette
Plain Paper (64 - 105 g/m²)
Rear Flat Tray
Paperboard
Paper Size
Rear Tray
A4, A5, A6, B5, LTR, LGL, B-Oficio, M-Oficio, Foolscap, FS, Executive, Envelope [COM10, DL, C5, Monarch], 4 x 6", 5 x 7", 7 x 10", 8 x 10", Square (127 x 127 mm), Card (91 x 55 mm)

[Custom Size]
Width: 89 - 216 mm
Length: 127 - 1,200 mm

Cassette
A4, A5, B5, LTR, Executive

[Custom Size]
Width: 148 - 215.9 mm
Length 216 - 297 mm

Rear Flat Tray
A4, B5, LTR

Custom Size:
Width: 89 - 215.9 mm
Length: 127 - 1,200 mm

Paper Handling (Maximum Number)
Rear Tray
[Plain Paper, A4/LTR]
Plain Paper (64 g/m2): 100
High Resolution Paper (HR-101N): 80[Photo Paper, 4 x 6"]
Photo Paper Plus Glossy II (PP-201, PP-208): 20
Photo Paper Plus Semi-Gloss (SG-201): 20
Glossy Photo Paper "Everyday Use" (GP-508): 20
Matte Photo Paper (MP-101): 20
Photo Stickers (PS-208, PS-808): 1
Cassette
Plain Paper (A4/LTR, 64 g/m²): 250
Rear Flat Tray
Paperboard: 1
Support Media for Auto 2-Sided Printing
Type
Plain Paper
Size
A4, LTR
Paper Path
Rear Tray, Cassette
Paper Weight
Rear Tray
Plain Paper: 64 - 105 g/m²
Canon Paper: Max. 265 g/m²
(Photo Paper Plus Glossy II, PP-201)
Cassette
Plain Paper: 64 - 105 g/m²
Paper Thickness
Real Flat Tray
Paper Thickness: 0.1 to 0.7 mm
Ink End Sensor
Electrode type and dot count type combined
Print Head Alignment
Auto / Manual
Scan
Scanner Type
Flatbed (ADF / Platen)
Scanner Method
Contact Image Sensor (CIS)
Optical Resolution
1,200 x 2,400 dpi
Scanning Bit Depth (Input/Output)
Greyscale
16 bit / 8 bit
Colour
RGB each 16 bit / 8 bit
Line Scanning Speed
Greyscale
1.5 ms/line (300 dpi)
Colour
3.5 ms/line (300 dpi)
Maximum Document Size
Flatbed
A4 / LTR
ADF
A4 / LTR / LGL
Compatible Media
Size
A4, A5, A6, B5, LTR, LGL, Executive, Foolscap, B-Oficio, M-Oficio, 4 x 6", 5 x 7", Square (127 x 127 mm), Card (91 x 55 mm)
Type
Plain Paper (64 - 105 g/m²)
Photo Paper Plus Glossy II (PP-201, PP-208)
Glossy Photo Paper (GP-508)
Photo Paper Plus Semi-Gloss (SG-201)
Photo Paper Pro Luster (LU-101)
Matte Photo Paper (MP-101)
Image Quality
3 positions (Economy, Standard, High)
Density Adjustment
9 positions, Auto Intensity (AE copy)
Copy Speed* (Approx.)

Based on ISO/IEC 24734
Click here for summary report
Click here for Document Print and Copy Speed Measurement Conditions

Document (Colour): (sFCOT/Simplex) / (sESAT/Simplex)
11.1 ipm / 17 sec
Document (ADF): Mono/ Colour (ESAT/Simplex)
15.2 / 7.4 ipm
Multiple Copy
Mono/Colour
Max. 99 pages
Maximum Document Size
A4 / LTR
Modem Speed
Maximum 33.6 kbps (Automatic fall back)
Type
Desktop Transceiver (Super G3 / Colour Communication)
Applicable Line
PSTN
Transmission Speed*(Approx.)
Mono/Colour
3 sec / 1 min
Fax Resolution (Approx.)
Mono
8 pels/mm x 3.85 lines/mm (Standard)
8 pels/mm x 7.7 lines/mm (Fine)
300 x 300 dpi (Extra Fine)
Colour
200 × 200 dpi
Print Size
A4 / LTR / LGL
Compression
Mono
MH / MR / MMR
Colour
JPEG
Gradation
Mono
256 levels
Colour
RGB each 8 bit
ECM (Error Correction Mode)
Available
Scanning Width
A4, LTR
Automatic Dialing
Coded Speed Dialing
Max. 100 locations
Group Dialing
Max. 99 locations
Transmission/Reception Memory*7
Approx. 250 pages
| | |
| --- | --- |
| Type | Windows: Available, macOS: Available |
| Destination Number | 1 Location |
| Mono/Colour | B/W Transmission only |
Protocol
SNMP, HTTP, TCP/IP (IPv4/IPv6)
Wired LAN
Network Type
IEEE802.3u (100BASE-TX) / IEEE802.3 (10BASE-T)
Data Rate
100 Mbps / 10 Mbps (auto switchable)
Security
IEEE 802.1X (EAP-TLS/EAP-TTLS/PEAP)
Wireless LAN
Network Type
IEEE802.11a*8/ac*8/b/g/n
2.4 GHz Channel: 1 - 11
US / TW / LTN / BR / CAN
2.4 GHz Channel: 1 - 13
JP / KR / EUR / AU / ASA / HK / CN / EMBU
5 GHz Channel: W52/W53/W56/W58
US / KR / BR / EUR / TW
Security
WPA-PSK (TKIP/AES)
WPA2-PSK (TKIP/AES)
WPA3-SAE (AES)
WPA-EAP (AES)*9
WPA2-EAP (AES)*9
WPA3-EAP (AES)*9
Direct Connection (Wireless LAN)
Available
AirPrint
Available
Mopria
Available
Canon Print Service
(for Android)
Available
MAXIFY Cloud Link
From Smartphone/Tablet
Available
From Printer
Available
Canon PRINT Inkjet/SELPHY
(for iOS/for Android)
Available
System Requirements
Windows 11 / 10 / 8.1 / 7 SP1
(operation can only be guaranteed on a PC with a pre-installed Windows 7 or later.)macOS 10.14.16 ~ 12 or later

Chrome OS
Operation Panel
Display
2.7" / 6.7 cm LCD (Touch Screen, Colour)
Language
33 Selectable Languages: Japanese / English / German / French / Italian / Spanish / Dutch / Portuguese / Norwegian / Swedish / Danish / Finnish / Russian / Czech / Slovene / Hungarian / Polish / Turkish / Greek / Simplified Chinese / Traditional Chinese / Korean / Indonesian / Slovakian / Estonian / Latvian / Lithuanian / Ukrainian / Romanian / Bulgarian / Thai / Croatian / Vietnamese
ADF
Paper Handling (Plain Paper)
A4, LTR: 35, LGL: 5, others: 1
Interface
USB 2.0
Operating Environment*
Temperature
5 - 35°C
Humidity
10 - 90% RH (no dew condensation)
Recommended Environment*
Temperature
15 - 30°C
Humidity
10 - 80% RH (no dew condensation)
Storage Environment
Temperature
0 - 40°C
Humidity
5 - 95% RH (no dew condensation)
Quiet Mode
Available
Acoustic Noise (PC Print) (Approx.)
Plain Paper (A4, Mono)*
49 dB(A)
Power
AC 100 - 240 V, 50/60 Hz
Power Consumption (Approx.)
OFF
0.1 W
Standby (scanning lamp is off)
USB connection to PC
0.9 W
Copying*
(USB connection to PC)
20 W
Duty Cycle
Up to 33,000 pages/month
Dimension (WxDxH) (Approx.)
Factory Configuration
399 x 417 x 251 mm
Output/ADF trays extended:
399 x 719 x 304 mm
Weight (Approx.)
9.5 kg
Plain Paper (A4 pages)
(ISO/IEC 24712 test file)*
Standard:
GI-76 PGBK: 6,000
GI-76 PG C/M/Y: 14,000Economy
GI-76 PGBK: 9,000
GI-76 PG C/M/Y: 21,000